Author: Sylvie Ramakers

The Dutch National Institute for Public Health and the Environment (RIVM) defines excessive drinking as consuming at least 14 or 7 glasses of alcohol per week for men and women respectively (GGD Haaglanden 2020). Although excessive drinking does not entail an addiction, the drinking habit is seen as a form of problematic alcohol consumption (Volksgezondheidenzorg.info 2020). This level of intake goes hand in hand with an increased risk of diabetes, cardiovascular diseases, strokes, and certain cancers (GGD Haaglanden 2020). Consequently, the Dutch Health Council advices to refrain from alcohol consumption, or at least limit the intake to one glass a day (GGD Haaglanden 2020).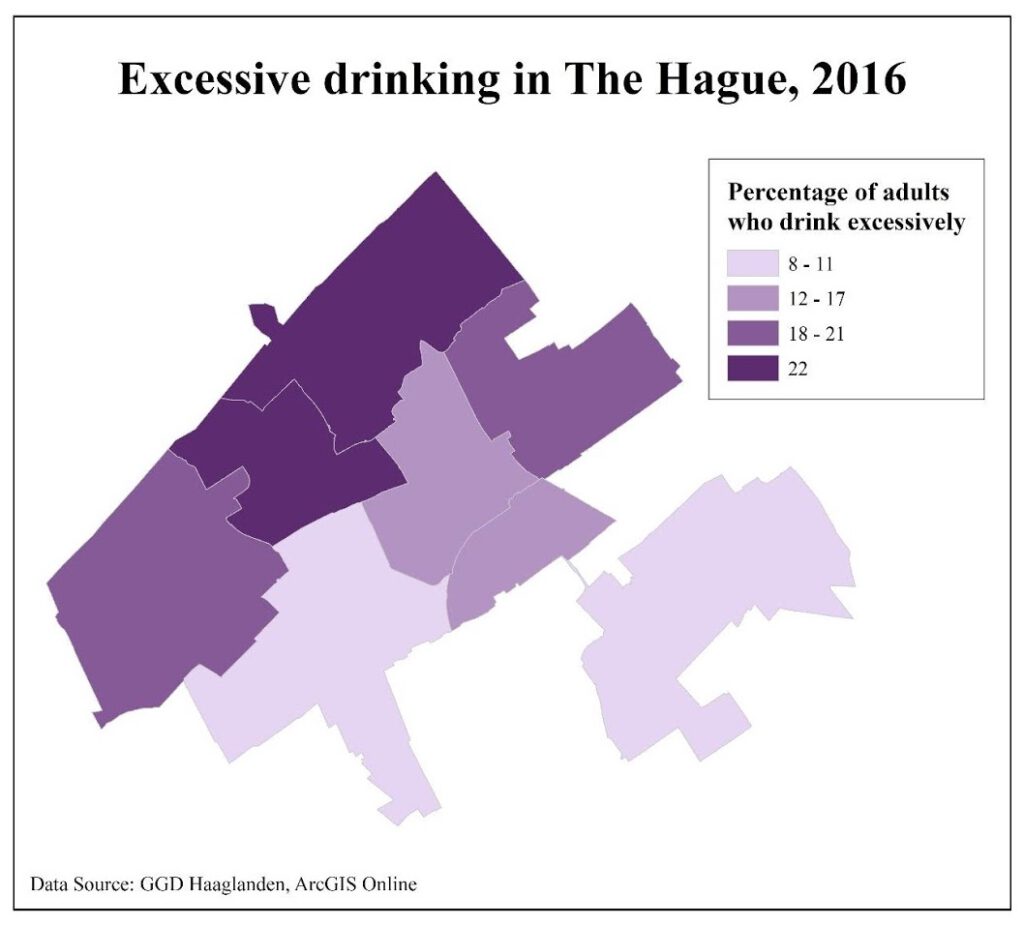 The average Dutch alcohol consumption per capita lies well under the average of the European Union, ranking 6th after Norway, Sweden, Greece, Italy, and Malta (Voksgezondheidenzorg.info 2020). The Hague itself has a lower percentage of excessive drinkers compared to the national average (16% vs. 19%) and to the average of the four largest cities (16% vs. 19%) (GGD Haaglanden 2020). This might be due to the fact that The Hague has a relatively high share of Muslim population, whose religion forbids the intake of alcohol (NOS 2017).
The native Dutch ('autochtoon') group is characterized by the highest percentage of excessive drinkers in The Hague (23%). The percentage of highly-educated excessive drinkers (18%) is significantly higher than the percentage of low-educated excessive drinkers (13%) (GGD Haaglanden 2020). Interestingly, disadvantaged neighbourhoods have significantly lower shares of excessively-drinking residents. Segbroek, Scheveningen, and Haagse Hout are the areas with the highest percentages of problematic drinking (see Figure 1). These differences in alcohol consumption according to ethnic background and socio-economic status are also observed on a national level (van Laar et al., 2019).
References:
GGD Haaglanden (2020). "Alcoholgebruik." GGD Haaglanden. At https://gezondheidsmonitor.ggdhaaglanden.nl/gemeenten/den-haag/themas/leefstijl/alcoholgebruik/.
Volksgezondheidenzorg.info (2020). "Alcoholgebruik: Cijfers & Context." Volksgezondheidenzorg.info. At https://www.volksgezondheidenzorg.info/onderwerp/alcoholgebruik/cijfers-context/huidige-situatie#definities.
NOS (2017). "Het aantal moslims stijgt, maar met hoeveel?" NOS. At https://nos.nl/artikel/2163084-het-aantal-moslims-stijgt-maar-met-hoeveel.html.
Van Laar, M.W., Van Gestel, B., Cruts, A.A.N., Van der Pol, P.M., Ketelaars, A.P.M., Beenakkers, E.M.T., Meijer, R.F., Croes, E.A. & Van Miltenburg, C.J.A., (2019). "Nationale Drug Monitor: Jaarbericht 2018." Trimbos. At https://www.trimbos.nl/docs/8081bdca-2ff7-4b5d-98df-a961a3888fa8.pdf.
Who drinks excessively in The Hague?